Have you explored the CommonBound Sched yet? Sched is our online home for speaker bios, the schedule, workshop descriptions, and more. That's where you should go to see the full list of attendees, including headshots, bios and affiliations, if people have chosen to share that publicly. 
Think of Sched as part online directory, part social network for the conference. 
Intimidating? Don't worry. We've put together a guide to Sched that will help you navigate this powerful tool. We hope it's helpful!
Eli Feghali
Communications Director, NEC
------------------------
CommonBound 2018: Your Guide to Sched
First things first, setup your profile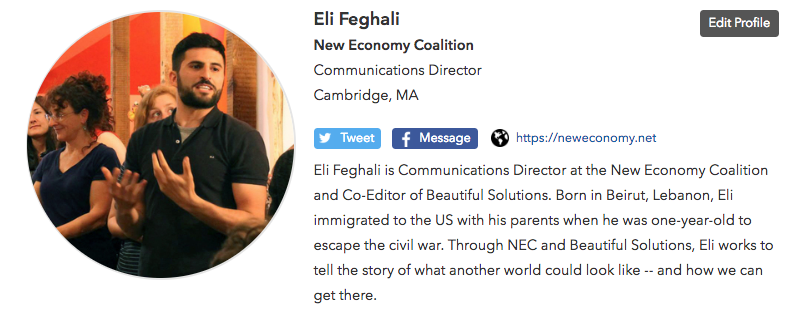 When you registered for CommonBound you should have received an email from Sched with the subject line "Build your schedule for CommonBound 2018." In that email are instructions for how to set your password. 
If you already have a Sched account from a prior event, Sched will prompt you to login. If you forgot your password, don't worry, you can request a new password. Sched will automatically know that you have tickets to the conference, as long as you're using the same email account as the one you used on Eventbrite.
Once you're logged in, go here: https://commonbound2018.sched.com/profile and fill out your profile. You can even link your social platforms if you want to share those with others and more easily find your friends. Remember to hit the green "Save Settings" button at the bottom when you're done! 
How and why to create your personal schedule
Go to commonbound2018.sched.com and check the boxes next to the sessions you plan on attending. This doesn't reserve your spot (which you don't need to do for most sessions -- only site visits and network gatherings), but it does let others know where they can find you and make it easier for you to navigate the conference from your phone or computer. 
Once your schedule is setup, you can email it to yourself or others, print it, and even send it to your mobile calendar app. You can also change your schedule at anytime. 
Here's what it looks like when filled out: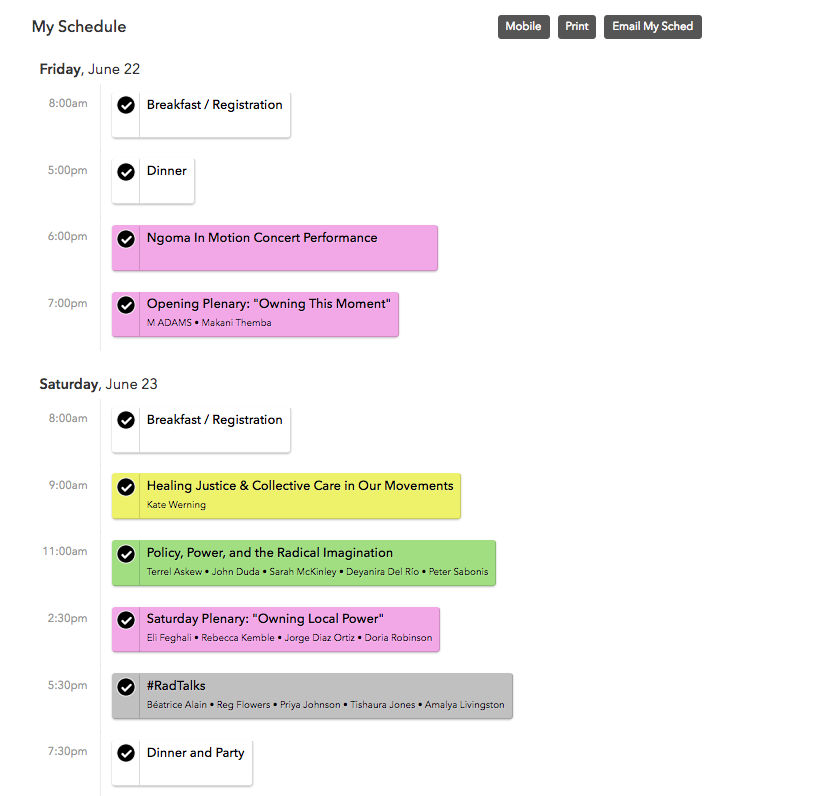 Privacy settings
If you want to use Sched without revealing your profile information or schedule to others, you can adjust your privacy settings accordingly by going to your profile and unchecking the box that says "Make my profile & schedule public."
Download the app (Android Only for now)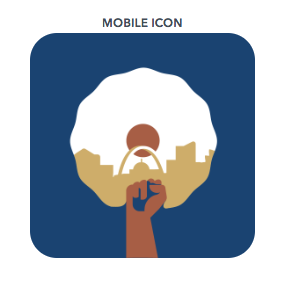 There's an app for this conference! Thanks to Sched we are able to offer a free smartphone app available on the google play stores. We're working on getting it on the iOS store as well but Apple is...difficult. For now, if you have an iPhone or you'd rather not download another app, you can also visit commonbound2018.sched.com/mobile on your mobile browser.
On both the app and the mobile site, you can login and access your personal schedule. It's a nice companion to the printed program.  
Are you a speaker or presenter? Fill out your bio and your headshot! 
Due to page limitations, we couldn't include speaker bios in the CommonBound printed program. Sched is the only place where attendees can learn who you are before attending a session -- but that's only possible if you fill out your profile!
Your session is more likely to be attended if your Sched profile has a full bio and headshot. There's a lot of overlapping content happening at the conference. People will be drawn to sessions that look like this: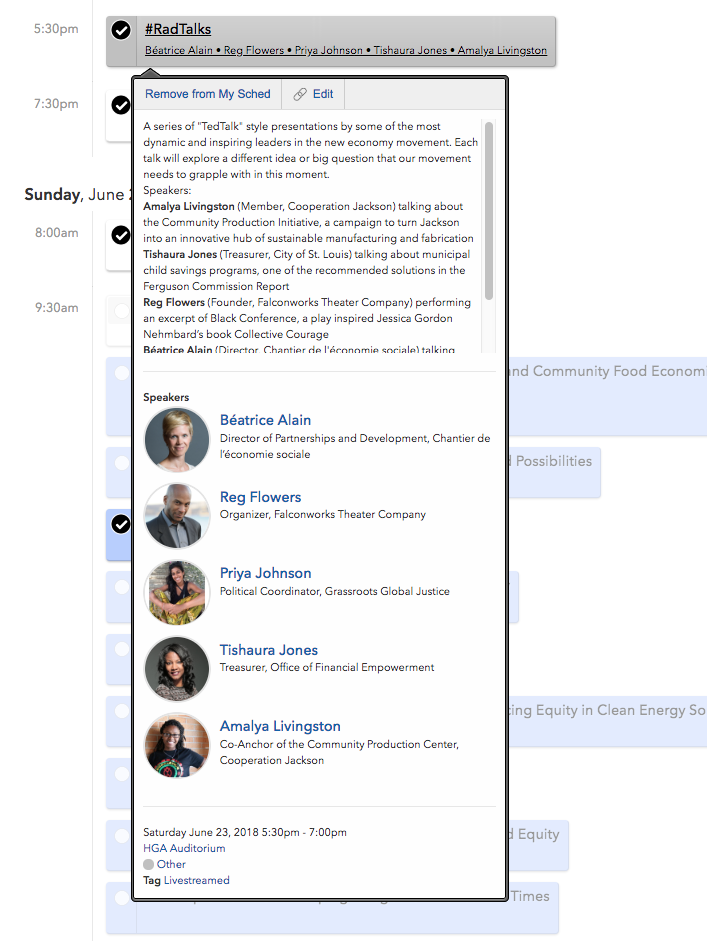 Do you have duplicate profiles? 
We've encountered a few instances where folks had duplicate profiles in the system. If this is you, let us know via helpdesk [at] neweconomy.net and we'll fix it for you. 
Did you register multiple people on Eventbrite using your email instead of theirs?
If so, it's likely they won't be able to setup their own Sched profile without assistance. Let us know via helpdesk [at] neweconomy.net so we can adjust their Eventbrite ticket and create a Sched profile for them. 
Is Sched not letting you select sessions for your schedule because you lack the right ticket?
This is one of two things: 1) you don't have the right ticket for the session you're trying to select (example: Friday's network gatherings require a specific ticket to select them on Sched), or 2) there was an issue with your Eventbrite registration syncing with Sched. 
If it's the latter, let us know via helpdesk [at] neweconomy.net so we can adjust your Eventbrite ticket which hopefully should fix the issue. 
Others issues or questions? 
First things first, see if your question is already answered on Sched.com: https://commonbound2018.sched.com/help
If you still have questions and need help, contact us at helpdesk [at] neweconomy.net.